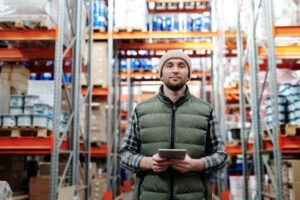 Photo via Pexels
As a warehouse manager, the safety and security of your facility should be of utmost priority. Creating a safe and secure warehouse environment will promote efficiency and ensure the protection of your valuable employees and inventory. Warehouse accidents and theft can cause significant financial losses, damage the reputation of your business, and even lead to serious legal issues. As a result, implementing safety and security best practices is vital to the longevity of your business. Read on for some insights from Discenza Business Continuity Solutions.
Warehouse Security Solutions
Take the appropriate security measures to protect your products, equipment, and facilities from theft, unauthorized access, and other security threats.
Know how to protect remote-access security monitoring apps from hackers.
Keep an updated inventory of all products and equipment in the warehouse to help prevent loss and ensure accountability.
Remember to implement security measures for your office and server room as well.
Safety for Employees
Both warehouse managers and employees are responsible for creating and maintaining a safe work environment. These are just a few safety standards your team should follow to prevent accidents.
Regulatory Standards and Best Practices
Warehouses are subject to several regulatory requirements. You must follow these guidelines to ensure compliance and avoid fines, penalties, lawsuits, and other legal consequences.
Following warehouse best practices is essential for improving efficiency, safety, and security in your facility. From training your employees on proper safety procedures to implementing measures for better office security, taking a proactive approach to safety and security will help you safeguard your assets, protect your reputation, and provide a healthy work environment for your employees.